Youth Employment
We need to make this country work for young people, so that they can work for our country.
President Cyril Ramaphosa, SONA 2020
South Africa faces a crisis of youth unemployment. Of the 1.2 million young people who enter the labour market each year, approximately two-thirds remain outside of employment, education or training. 
The solution to this crisis must be two-pronged: we must all create opportunities for youth employment and self-employment.
We have begun the implementation of the Presidential Youth Employment Intervention, which includes five priority actions over the next five years to reduce youth unemployment.
1. Pathways into the economy
We are building cutting-edge solutions to reach young people where they are – online, on the phone and in person. 
This will allow them to receive active support, information and work readiness training to increase their employability and match themselves to opportunities. 
Starting this month, we are launching five prototype sites in five provinces that will grow to a national network reaching three million young people through multiple channels. 
2. Agile training programmes
Through the provision of shorter, more flexible courses in specific skills that employers in fast-growing sectors need, we will ensure young people are better prepared for the workplaces of the future.
3. Entrepreneurship
We are developing new and innovative ways to support youth entrepreneurship and self-employment.
Through its grant programme, the National Youth Development Agency (NYDA) will provide funding for 1,000 youth-owned enterprises in the next 100 days.
4. Workplace experience
By scaling up the Youth Employment Service (YES) and working with TVET colleges and the private sector, we will ensure more learners receive practical experience in the workplace to complete their training.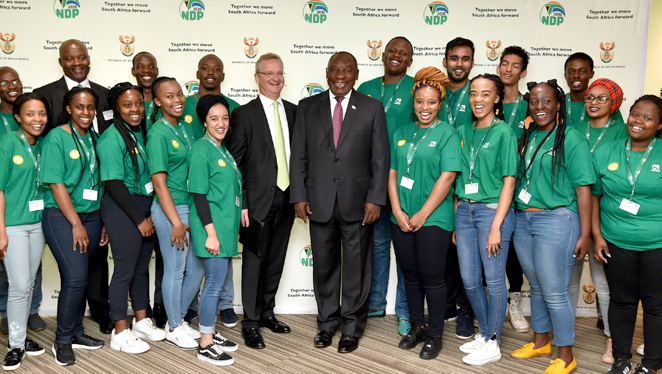 Image: GCIS
President Ramaphosa receives an update on the Youth Employment Service.
Since its launch in November 2018, YES has partnered with more than 600 companies to provide over 33,000 quality work experiences to young people. The expected benefit for local economies through youth salaries is expected to total R1.3 billion.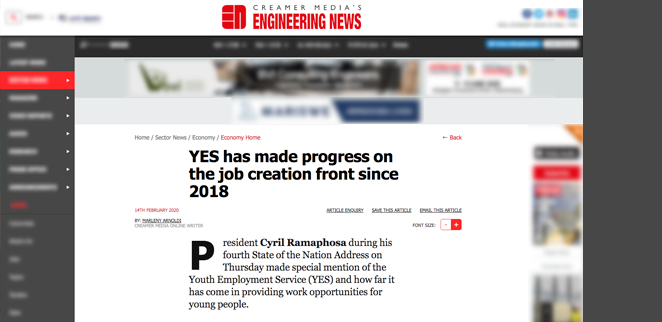 Source: Creamer Media
5. Presidential Youth Service
We are establishing the first cohort of a Presidential Youth Service programme that will unlock the agency of young people and provide opportunities for them to earn an income while contributing to nation building.