SONA 2021 highlights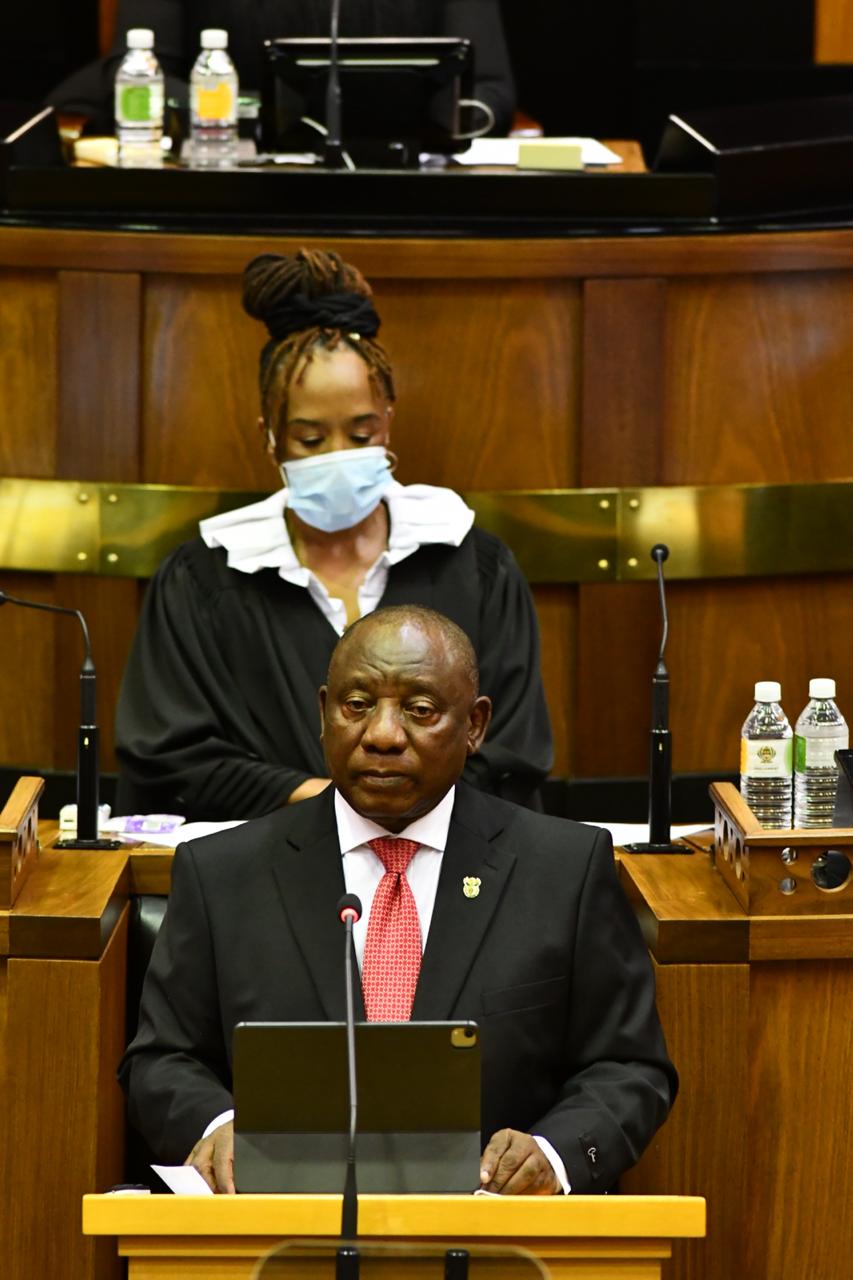 Highlights of President Ramaphosa's 2021 State of the Nation Address
Like fynbos that rises again after devastating fire, South Africa will rise again, President Cyril Ramaphosa said in his 2021 State of the Nation Address.
The COVID-19 pandemic has wrought havoc on the South African economy, infected nearly 1.5-million people and killed more than 45 000.
"Beyond these statistics lies a human story of tragedy and pain. There is no family, no community, and no place of work that has not lost someone they knew, worked with, and loved," he said.
"It is also a story of courage and resilience. The resilience of the hospital worker who – day after day, night after night – goes to work to save lives, knowing that they themselves are at risk of infection.
"It is a wonderful account of the courage of the police officer, the soldier, the essential worker, the carer and all those on the frontline who have kept our country safe, our people fed and our economy going.
"It is a story of solidarity and compassion. Of a nation that has stood together to confront COVID-19 in ways not seen since the early days of our democracy.
"More than anything else, this crisis has revealed the true character of our remarkable nation. It has revealed a spirit of the people who refused to be defeated," said the president.
DEFEATING COVID-19
The human cost to South Africa could have been far worse, had it not been for the unrelenting, comprehensive response to COVID-19
But we must intensify prevention and strengthen the health system. We must also undertake a massive vaccination programme
South Africa has secured 9-million doses of the Johnson & Johnson vaccine, with the first 80 000 doses arriving next week. Health and other frontline workers will be prioritised in the first phase
A total of 500 000 doses of the Johnson & Johnson vaccine arrive in the next four weeks
Pfizer has committed 20-million vaccine doses, with deliveries commencing at the end of the first quarter
A further 12-million doses have been secured through the global COVAX facility
This will be complemented by other vaccines available to South Africa through the African Union's African Vaccine Acquisition Task Team facility
Engagements with all vaccine manufacturers are continuing, to ensure sufficient quantities of vaccines suitable to our conditions are secured
All provinces have vaccination roll-out plans in place
COVID social and economic relief
COVID-19 has contributed to rising poverty and deepening inequality, with our economy 6% smaller in the third quarter of 2020 compared with the last quarter of 2019: 1.7-million fewer people were employed, and unemployment stands at 30.8%
However, the government's relief measures and phased reopening of the economy augurs well for strong employment recovery by the end of 2020
The government's social and economic relief package, introduced in April 2020, has identified R500-billion (10% of GDP) in measures to provide cash to poor households, provide wage support and provide relief to struggling businesses
A third of our population, 18-million people, received additional grant payments, lifting more than 5-million above the food poverty line
More than R57-billion in wage support has been paid to over 4.5-million workers through the Special UIF TERS scheme
Small and medium-sized businesses have received more than R1.3-billion in support, and over R70-billion in tax relief was extended to struggling businesses

About R18.9-billion in loans has been approved through the loan guarantee scheme for 13 000 businesses

The period for the Special COVID-19 Grant of R350 will be extended by a further three months

The COVID-19 TERS benefit will also be extended until 15 March 2021, only for those sectors that have not been able to operate
National Treasury will work with its partners and stakeholders on improvements to the loan guarantee scheme to better address the realities of SMMEs and other businesses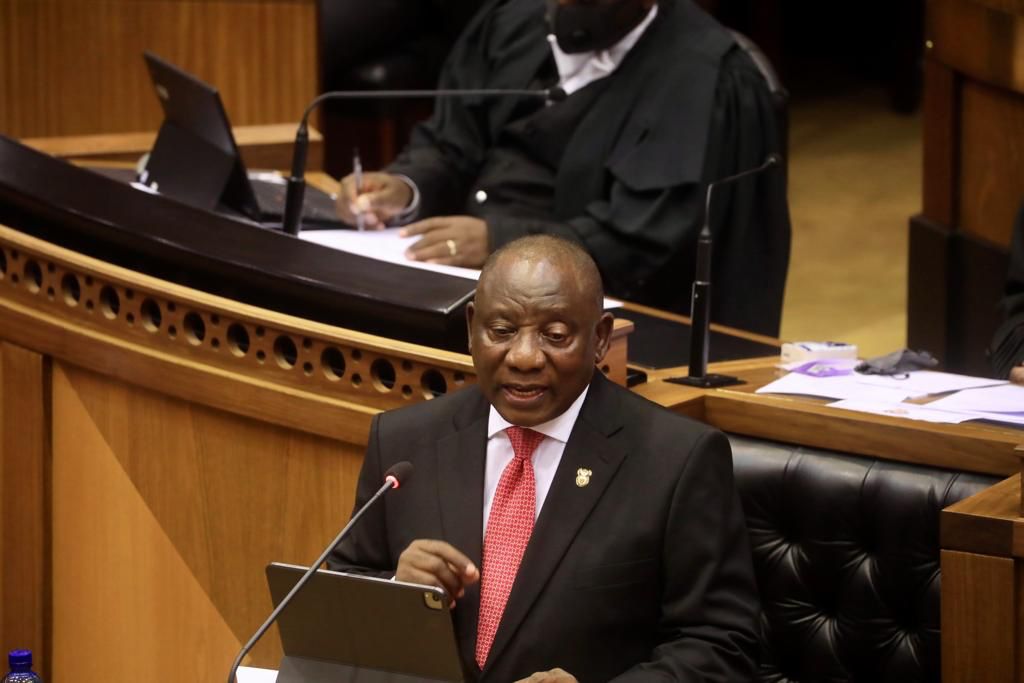 ECONOMIC RECONSTRUCTION AND RECOVERY PLAN
The Economic Reconstruction and Recovery Plan, presented four months ago to Parliament, has focused on four priority areas:
A massive rollout of infrastructure throughout South Africa
A massive increase in local production
An employment stimulus to create jobs and support livelihoods
The rapid expansion of our energy generation capacity
Infrastructure
Technical skills have had to be built within the government to prepare and manage large infrastructure projects
An infrastructure investment project pipeline worth R340-billion in network industries such as energy, water, transport and telecommunications has been developed. Construction has started and progress has been made
Two major human settlements projects that will provide homes to almost 68 000 households in Gauteng province have begun. Similar projects are planned in other provinces
New post-apartheid cities, announced two years ago, are being conceptualised in a number of places. The master plan for the first, the Lanseria Smart City, which will house between 350 000 and 500 000 people, is now out for public comment
Progress is being made on several major water infrastructure projects: Phase 2A of the Mokolo and Crocodile River project, and the uMkhomazi Water Project
The Infrastructure Investment Plan identifies road projects worth R19-billion. Work is under way to finalise project finance structuring
Resources have been committed from the fiscus to support the construction and rehabilitation of the N1, N2, and N3 highways
The R100-billion Infrastructure Fund is now in full operation. Its approved project pipeline for 2021 is varied: it includes the Student Housing Infrastructure Programme, which aims to provide 300 000 student beds, and SA Connect, a programme to roll out broadband to schools, hospitals, police stations and other government facilities
Industrialisation and local production
Supporting a massive increase in local production and making South African exports globally competitive will encourage greater investment by the private sector in productive activity
Key to this plan is a renewed commitment from government, business and organised labour to buy local
All social partners who participated in the development of the Economic Reconstruction and Recovery Plan have agreed to work together to reduce our reliance on imports by 20% over the next five years
They have identified 42 products – ranging from edible oils to furniture, fruit concentrates, personal protective equipment, steel products and green economy inputs – that can be sourced locally
Achieving this target will significantly expand our productive economy, potentially returning more than R200-billion to the country's annual output
Last year, we undertook to create a larger market for small businesses and designate 1 000 locally produced products that must be procured from SMMEs. The closure of global supply chains owing to COVID-19 has allowed this process to be accelerated
The departments of Small Business Development and Trade, Industry and Competition are supporting SMMEs to access larger domestic and international markets
Four master plans to rejuvenate and grow key industries have been completed and signed to date, and have already had an impact in their respective industries
Through the poultry master plan, the industry has invested R800-million to upgrade production. South Africa now produces an additional one million chickens weekly
The sugar master plan includes a commitment from large users of sugar to procure at least 80% of their sugar needs from local growers
The clothing, textile, footwear and leather master plan has seen the investment of more than R500-million to expand local manufacturing facilities
The auto sector has recovered around 70% of its normal annual production, in difficult circumstances. Last week, the Ford Motor Company announced a R16-billion investment to expand their manufacturing facility in Tshwane; Toyota has invested in its KwaZulu-Natal facility;  investment announcements have been made by Nissan, Mercedes-Benz and Isuzu
This year, our focus will be on getting the industry back to full production, implementing the Black Industrialist Fund and working on a new platform for expanded auto trade with the rest of the continent
Also this year, we will begin to harness the opportunities presented by the African Continental Free Trade Area, which came into operation on 1 January. It provides a platform for South African businesses to expand into markets across the continent
Last year, government agreed to landmark deals with companies that will advance black economic empowerment by transferring ownership to their workers
In November last year, we held our third South Africa Investment Conference to review the implementation of previous commitments and to generate new investment into our economy. The Investment Conference managed to raise R108-billion in additional investment commitments, bringing the total for the last three years to R773-billion. Around R183-billion has already flowed into projects
In the past year, more than 125 000 new companies have been registered through the BizPortal platform, completing their registration in a matter of hours
Employment stimulus
We continue to work in a social compact with the private sector to create a more conducive environment for it to be able to create jobs
The Presidential Employment Stimulus is one of the most significant expansions of public and social employment in South Africa's history: by the end of January, over 430 000 opportunities had been supported. A further 180 000 opportunities are currently in the recruitment process
The National Youth Development Agency and the Department of Small Business Development provided grant funding and business support to 1 000 young entrepreneurs
More than 1.2-million young people are already in the national Pathway Management Network, which provides support and opportunities to young people.
It is a priority for 2021 to regain lost time and improve educational outcomes, from the early years to post-school education and training
Energy security
Restoring Eskom to operational and financial health and accelerating its restructuring process is central to this objective
Eskom has been restructured into three separate entities for generation, transmission and distribution, laying the foundations for an efficient, modern and competitive energy system
Eskom is making substantial progress with its intensive maintenance and operational excellence programmes to improve the reliability of its coal fleet
The government is working closely with Eskom on proposals to improve its financial position, manage its debt and reduce its dependence on the fiscus
The electricity tariff path is to be reviewed, to ensure that it reflects all reasonable costs and measures to resolve the problem of municipal debt
In December 2020, the government and its social partners signed the historic Eskom Social Compact, which outlines the necessary actions we must take to meet the country's current and future energy needs
Action has been taken to urgently and substantially increase generation capacity in addition to what Eskom generates:

successful bids for 2 000 megawatts of emergency power generation will soon be announced;
regulations have been amended and the requirements clarified for municipalities to buy power from independent power producers;
the government will soon be initiating the procurement of an additional 11 800 megawatts of power from renewable energy, natural gas, battery storage and coal

The government will in the coming weeks open bid window 4 of the renewal energy programme for 2 600 megawatts from wind and solar energy
The government will amend Schedule 2 of the Electricity Regulation Act within the next three months to increase the licensing threshold for embedded generation projects, unlocking up to 5 000 megawatts more capacity.
We are working to fulfil our commitments under the United Nations Framework Convention on Climate Change and its Paris Agreement which include the reduction of greenhouse gas emissions. Eskom has committed in principle to net zero emissions by 2050
Our work on climate change will be guided by the Presidential Coordinating Commission on Climate Change, which is meeting for the first time this month. It will work on a plan for a just transition to a low-carbon economy and climate resilient society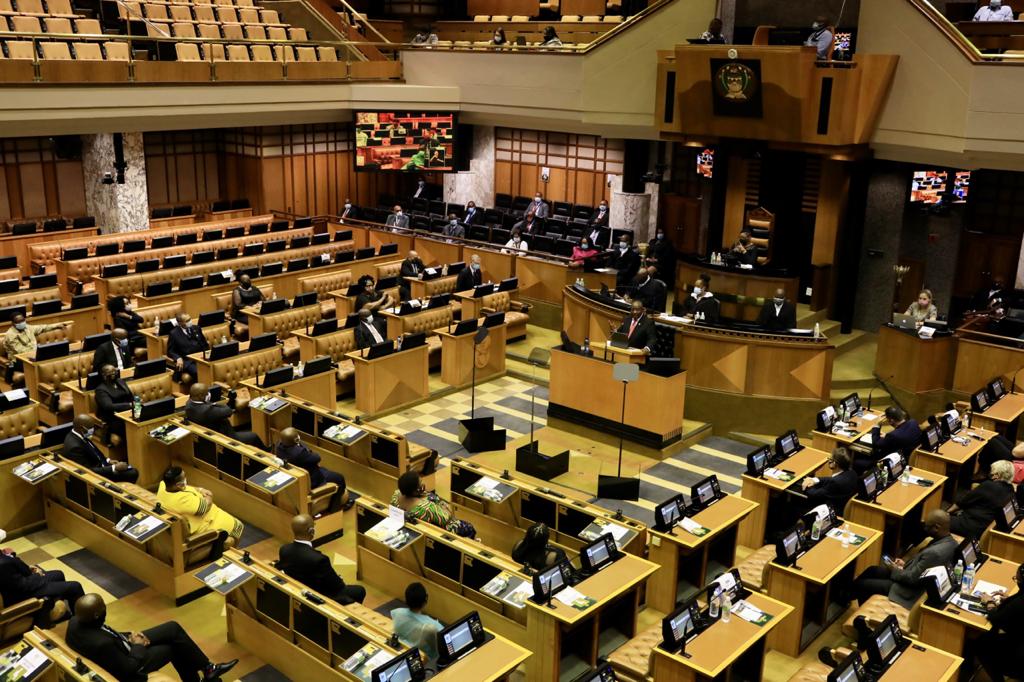 ECONOMIC REFORMS
Economic reform is being driven through Operation Vulindlela, which involves a team in National Treasury and the President's office
Operation Vulindlela focuses on reforms in the electricity, water, telecommunications and transport sectors, as well as reforms to our visa and immigration regime
The phased switch-off of analogue TV transmitters and phased migration to digital begins next month. This process is due to be completed by March 2022
In the water sector, Operation Vulindlela is ensuring that water licence applications are finalised within the revised timeframe of 90 days, and that the Blue Drop and Green Drop programmes are revived to strengthen water quality monitoring.
The establishment of a national Water Resources Infrastructure Agency will be accelerated
Durban is being positioned as a hub port for the Southern Hemisphere, and Ngqura developed as the container terminal of choice
The rail corridor from Gauteng is being extended to enable the export of vehicles through Port Elizabeth
Work is under way with the relevant departments to reform our visa and immigration regime, to attract skills and grow the tourism sector. A full roll-out of eVisas to visitors from China, India, Nigeria, Kenya and 10 other countries will be undertaken
State-owned enterprises
The Presidential State Owned Enterprises Council has outlined a clear set of reforms to enable SOEs to fulfil their growth and development mandate
Overarching legislation for state-owned companies will be tabled in Cabinet this financial year and Parliament in the next the financial year
A centralised SOE model is being implemented this financial year, which will ensure a standardised governance, financial management and operational performance framework for all SOEs
The mandates of all SOEs are being re-evaluated
Agriculture and food security
Despite COVID-19, South Africa's agricultural sector has performed remarkably well. In 2020, we became the world's second-largest exporter of citrus, with strong export growth in wine, maize, nuts, deciduous fruit and sugar cane
There is opportunity for further public-private partnership in agriculture to promote transformation, ensure sustainable growth and accelerate land redistribution
To date, government has redistributed over 5-million hectares of land, totalling around 5 500 farms, to more than 300 000 beneficiaries
Additionally, the land restitution process has benefited over 2-million land claimants and resulted in the transfer of around 2.7-million hectares
Programmes are being pursued to assist smallholder and emerging farmers
A Land and Agrarian Reform Agency to fast-track land reform will be established in the next financial year
Building a capable state
The National School of Government will continue to roll out programmes to advance honesty, ethics and integrity in the public service
Ministerial Performance Agreements, which are available online, were signed off in October 2020
Efforts to strengthen local government infrastructure and accelerate service delivery through the District Development Model are proceeding
There is a focus on appointing properly qualified officials at a local level to ensure effective management and provision of services
FIGHTING CRIME AND CORRUPTION
Corruption is one of the greatest impediments to the country's growth and development, and the rebuilding effort begun three years ago must be maintained
There has been great progress in turning around law enforcement bodies, with critical leadership positions filled, improved cooperation and sharing of resources by law enforcement agencies, and implementation of the National Anti-Corruption Strategy. National Anti-Corruption Advisory Council members will be appointed shortly
The Fusion Centre, which brings together key law enforcement agencies to share information and resources, was established last year to act on fraud and corruption in the procurement of COVID-related goods and services. Millions of rands in public funds have been preserved or recovered
The Special Investigating Unit was authorised to investigate allegations of unlawful conduct with respect to COVID procurement by all state bodies during the National State of Disaster. The SIU has finalised investigations into 164 contracts with a total value of R3.5-billion

The Political Party Funding Act will come into operation on 1 April this year. This will regulate public and private funding of political parties

Task teams have been set up in a number of provinces to deal with extortion and violence on sites of economic activity

The implementation and capacitation of the Border Management Agency, to curb illegal immigration and cross-border crime, is being fast-tracked
Gender-based violence
Three key pieces of legislation were introduced in Parliament last year to make the criminal justice system more effective in combating gender-based violence
Progress is being made in reducing the backlog of gender-based violence cases
Care and support to survivors of gender-based violence will continue
Last year, Cabinet approved a policy that 40% of public procurement should go to women-owned businesses.Several departments have begun implementing this policy
The ground-breaking, private sector-led GBVF Response Fund was launched last week, with several South African companies and global philanthropies pledging a total of R128-million
Over the next three years, the government will allocate approximately R12-billion to implement the various components of the National Strategic Plan
Attention must be given to issues affecting children, including improving school readiness, Early Childhood Development planning and funding, protection against preventable diseases, policy reform around child welfare and reducing violence against children
The government will in the next year forge ahead with providing greater opportunities for persons with disabilities to participate in the economy and in society in general
"In counting the great cost to our society over the past year, we may be tempted to lose faith. But we can get through this. Because we are a nation of heroes," said President Ramaphosa.
"I am referring not to the glorious lineage of struggle icons, but to the everyday heroes that walk among us, who work hard every day to put food on the table, to keep the company running, and to give support, help and care to our people.
"It is your resilience that will help this country recover," he said.