SONA 2019 June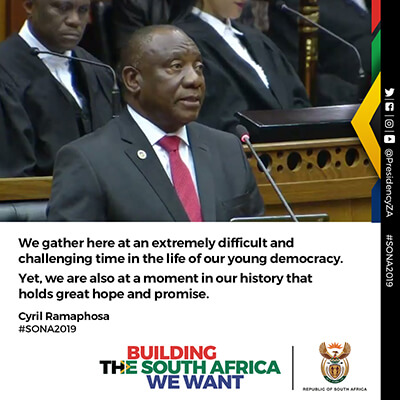 Now is the time to focus on implementation.
It is time to make choices.

As we enter this new administration, we will focus on seven priorities:

Economic transformation and job creation
Education, skills and health
Consolidating the social wage through reliable and quality basic services
Spatial integration, human settlements and local government
Social cohesion and safe communities
A capable, ethical and developmental state
A better Africa and World
Land reform
We have received the report of the Presidential Advisory Panel on Land Reform and Agriculture, which will now be presented to Cabinet for consideration. The panel's recommendations will inform the finalisation of a comprehensive, far-reaching and transformative land reform programme.

In the immediate term, government will accelerate efforts to identify and release public land that is suitable for smart, urban settlements and for farming.
Over the medium term budget period, R3.9 billion has been allocated to the Land Bank to support black commercial farmers.
Cost of doing business
If we are to be internationally competitive, if we are to attract investment, we must address the high cost of doing business and complicated and lengthy regulatory processes.

We must reach a point where no company need wait more than six months for a permit or licence and new companies should be able to be registered within a day.   We will continue to reduce the cost of doing business by reducing port export tariffs, pursuing lowest cost electricity generation options, and making rail transport more competitive and efficient.
Buying Local
We will stimulate local demand and grow South African manufacturing by making sure the 'Buy Local' campaign is everywhere and ever-present.   Within this next year, we seek to conclude agreements with retailers to stock more South African goods on their shelves and to actively promote the great products made by South African hands.   At the same time, we will promote our products more actively to the rest of the African continent and the world.
Telecommunications
We will expand our high-tech industry by ensuring that the legal and regulatory framework promotes innovation, scaling up skills development for young people in new technologies, and reducing data costs.   Within the next month, the Minister of Communications will issue the policy direction to ICASA to commence the spectrum licensing process.   This process will include measures to promote competition, transformation, inclusive growth of the sector and universal access.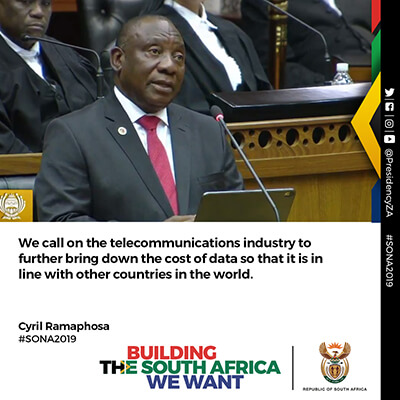 Eskom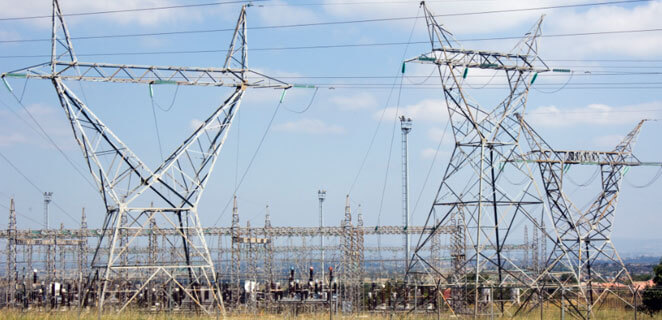 Photo: Chris Kirchhoff
Hoedspruit, Limpopo province: Power lines and substation.
One reason for the lacklustre economic performance has been the load shedding early this year, together with the continued uncertainty in the supply of electricity and the state of Eskom. The lesson is clear: for growth, we need a reliable and sustainable supply of electricity.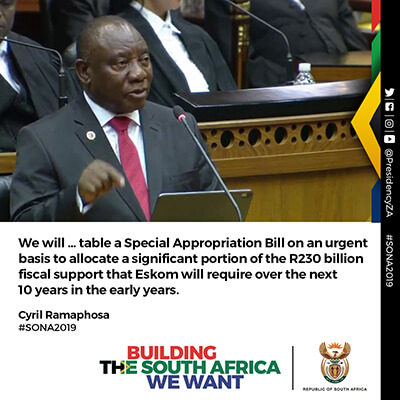 We will announce the appointment of a new CEO following the Mr Phakamani Hadebe stepping down. He came in at a difficult time at ESKOM and has done a great deal with the board led by Mr Jabu Mabuza to stabilize the company. 

Eskom is working with government and other stakeholders to address its overall debt as well the debt owed by municipalities and individual users.

As a country, we must assert the principle that those who use electricity must pay for it. Failure to pay endangers our entire electricity supply, our economy and our efforts to create jobs. The days of boycotting payment are over. This is now the time to build it is the time for all of us to make our own contribution.
Tourism

We will make good on our ambition to more than double international tourist arrivals to 21 million by 2030.   This will be achieved through the renewal of the country's brand, introducing a world-class visa regime and a significant focus on Chinese and Indian markets and air arrivals from the rest of our continent.   We are determined to ensure that tourists who come to our country are safe.
Climate change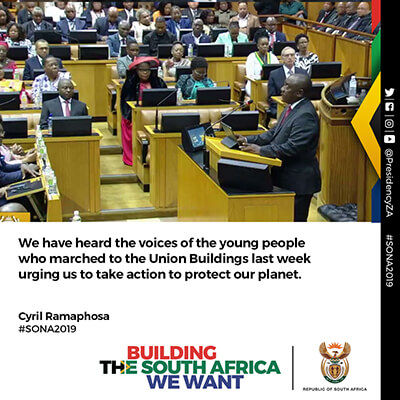 Guided by the NDP, it is our responsibility to pursue inclusive, sustainable development that is resilient in the face of climate change.   Working in partnership with the private sector, labour and the international community we will step up our adaptation and mitigation efforts.   We have the opportunity to be at the forefront of green growth, of low-carbon industrialisation, of pioneering new technologies and of taking quantum leaps towards the economy of the future.   We must increase the contribution of renewable and clean energy to our national energy mix and explore the potential of the hydrogen economy.
Capable and developmental state
We will be adopting a district-based approach – focusing on the 44 districts and 8 metros – to speed up service delivery, ensuring that municipalities are properly supported and adequately resourced.   Through the Presidential SOE Council, government intends to create alignment between all state-owned companies and to better define their respective mandates.   Through the Council, we will work with the leadership of SOEs to develop a legal and regulatory environment that promotes innovation and agility and enhances their competitiveness.

We will build on the work we have already begun to address problems of poor governance, inefficiency and financial sustainability.
Building an ethical state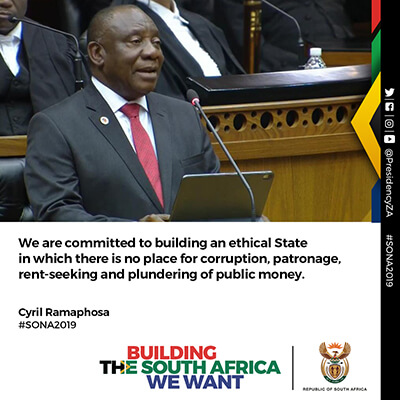 The decisive steps we have taken to end state capture and fight corruption, including measures to strengthen the NPA, SIU, SARS and State Security, are achieving important results.    We have asked the National Director of Public Prosecutions to develop a plan to significantly increase the capacity and effectiveness of the NPA, including to ensure effective asset forfeiture.    We expect that the new SIU Special Tribunal will start its work within the next few months to fast rack civil claims arising from SIU investigations, which are currently estimated to be around R14.7 billion.
International community
South Africa will continue to play an active role in international relations in the quest for global peace and security, people-centred development and prosperity for all.   We renew our determination to work in concert with the international community to preserve and protect the rules-based multilateral system with the United Nations at its head.   We will use our membership of the UN Security Council to promote the peaceful resolution of disputes particularly on the African countries.
Integration with the rest of Africa
The African Continental Free Trade Area will improve the movement of goods and services, capital and means of production across the Continent.   Our revitalised industrial strategy focuses on the expansion of our trade and investment links with the rest of the Southern African region and the Continent at large.   Within SADC, we will prioritise development of cross-border value chains in key sectors such as energy, mining and mineral beneficiation, manufacturing, infrastructure and agro-processing.