Effective Governance
Everything we do must be underpinned by effective implementation.
President Cyril Ramaphosa, SONA 2020
A broad range of critical work is being done to strengthen the capacity of government to meet the social, economic and material needs of communities and improve the quality of their lives. 
District Development Model
The District Development Model (DDM) represents a new and improved way of bringing development and economic opportunities to South Africans.
The Cabinet-approved model is due for implementation in all of South Africa's 44 municipal districts and 8 metros. Government plans to reach 23 districts by the end of 2020.
Since the presentation of the DDM last year, three pilot sites have been launched, in the OR Tambo District Municipality, Waterberg District Municipality and Ethekwini Metropolitan Municipality. 
Under the model, all three spheres of government coordinate and integrate development plans and budgets while also mobilising the capacity and resources of government and civil society, including business, labour and community, in pursuit of inclusive growth and job creation.
Residents of the Mamusa Municipality in North West have already seen this approach in action, where the DDM was effectively utilised to clear illegal dumping sites, refurbish pump stations to stop sewage spilling in the streets, build roads and lay water pipes, and provide water and toilets to local schools.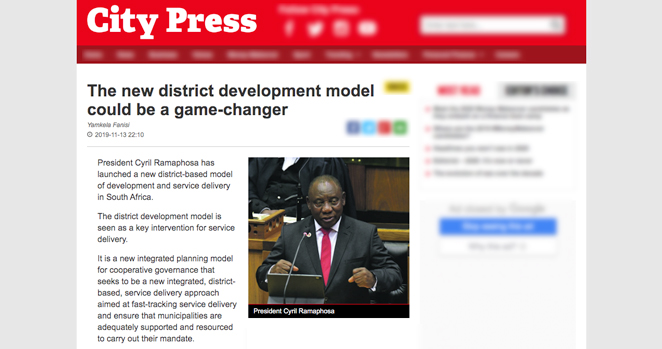 Click here to read the full story
The District Development Model aims to accelerate, align and integrate service delivery under a single development plan per district or metro.
Capacity in the Presidency
We have established the Project Management Office, the Infrastructure and Investment Office and the Policy and Research Services to address obstacles to reform and improve government delivery. These units are working closely with the Presidential Infrastructure Coordinating Commission, InvestSA and the Ease of Doing Business Task Team to remove impediments to investment and growth and ensure that government demonstrates visible progress quickly.