African Integration
This is our moment, as the people of the continent, to give effect to the dreams … of African unity.
President Cyril Ramaphosa, SONA 2020
Under the leadership of President Cyril Ramaphosa, South Africa has assumed the chairship of the African Union for 2020. We take up this responsibility at an important time for our continent.
African Continental Free Trade Area
The African Continental Free Trade Area (AfCFTA) comes into effect this year. South Africa will host an Extraordinary AU Summit in May to finalise the modalities of the Free Trade Agreement before its implementation on 1 July 2020. 
The summit will see the finalisation of rules to define the 'Made in Africa' product, the tariff lines that will be reduced to zero over the next five years, and the services sectors that will be opened up across the continent.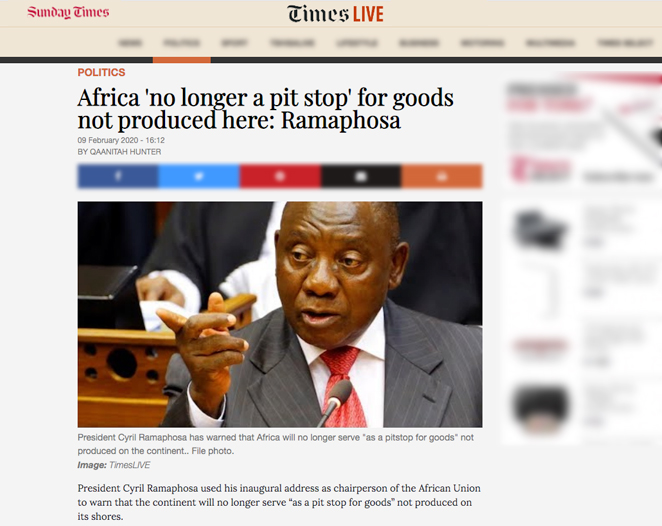 Image Credit: TimesLIVE
Click here to read the full story
Stepping into his AU leadership role, President Cyril Ramaphosa said there must be a reasonable standard set for what constitutes a product that is 'Proudly Made in Africa'.
Women empowerment
As chair of the African Union for 2020, South Africa will prioritise the economic empowerment of women across the continent, working with member states on measures to promote financial inclusion, preferential procurement and preferential trade arrangements for women.
The AU Heads of State have also pledged their support for measures to end gender-based violence on the continent, and will work towards the adoption of an AU Convention on Violence against Women during the course of this year.
African Peer Review Mechanism
Through the African Peer Review Mechanism (APRM), South Africa will work with other countries to advance good governance and democracy. The APRM is a mutually agreed programme adopted by AU member states to reinforce high standards of governance.
President of Chad and outgoing Chair of the APRM Forum, His Excellency Idriss Déby Itno, welcomes His Excellency President @CyrilRamaphosa, as the incoming Chair of the APRM Forum of Heads of State & Government. This authority is the highest decision-making body in the #APRM. pic.twitter.com/ALeqtddWvg

— PresidencyZA (@PresidencyZA) February 8, 2020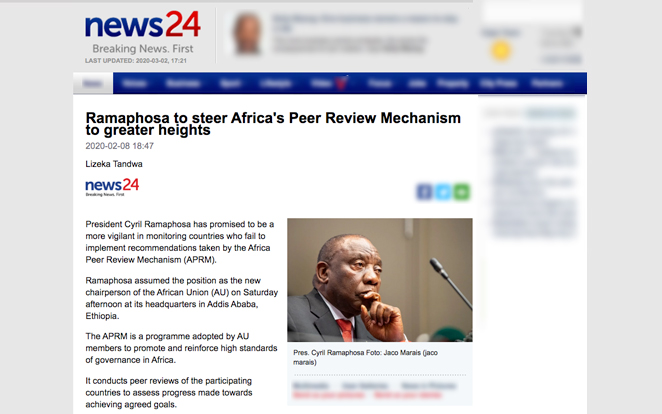 Image Credit: Jaco Marais (jaco marais)
Click here to read the full story
In assuming the Chairship of the APRM, President Cyril Ramaphosa will focus on monitoring countries that fail to implement the recommendations of the programme.