Education
The most significant contribution we can make to inclusive economic growth is in the development of appropriate skills and capabilities.
President Cyril Ramaphosa, SONA 2020
A number of interventions are being implemented to improve the quality and relevance of our educational outcomes. Investments in early childhood development and early school learning in particular will yield great economic benefits in the next two decades.
Vocational and technical education
We are making progress with the introduction of the three-stream curriculum model to meet the diverse needs of South Africa's youth. This includes a strong focus on vocational and technical skills.
Various technical vocational specialisations have already been introduced in 550 schools, and 67 schools are now piloting the technical occupational stream.
We are building nine new TVET college campuses this year, in Sterkspruit, Aliwal North, Graaff Reinet and Ngungqushe in the Eastern Cape, and in Umzimkhulu, Greytown, Msinga, Nongoma and Kwagqikazi in KwaZulu-Natal.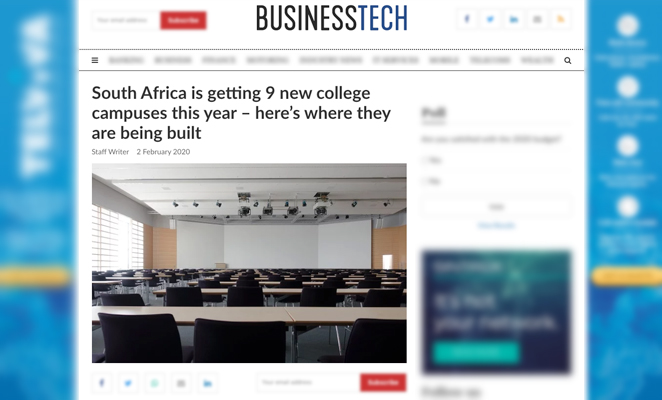 businesstech.co.za
Scholarships
Through bilateral student scholarship agreements with other countries, more and more young people are travelling overseas each year for training in critical skills.
We have seen the impact this can have with the Nelson Mandela Fidel Castro Medical Training Programme in Cuba, which has produced over 1,200 medical doctors, with a further 640 students expected to graduate in December 2020.
University of Science and Innovation
A new university will be established in Ekurhuleni to train young people in high-impact and cutting-edge technological innovation. Ekurhuleni is the only metro in our country that does not have a university.
The new institution will focus on study areas such as robotics, data science and machine learning.
Early education
The Department of Basic Education will table a bill this year to make two schooling years prior to Grade 1 compulsory.
The new Coding and Robotics Curriculum, meanwhile, is being piloted in grades R to 3 in 200 schools this year, with a plan to implement it fully by 2022.
Student accommodation
Young people at universities and TVET colleges across the country are facing serious accommodation challenges. A total of R64 billion will be spent over the next few years to improve student accommodation, and at least another R64 billion will be leveraged in private investment.