Investment and Economy
Over the past two years, we have been hard at work seeking to forge and build consensus around our economic recovery plan. Test
President Cyril Ramaphosa, SONA 2020
Investment drive
South Africa's investment drive will be intensified this year with the establishment of an integrated investment promotion and facilitation capability coordinated from the Presidency.
The third South Africa Investment Conference will take place in November to review the implementation of previous commitments and to generate new investment into the economy.
At the second South Africa Investment Conference last year, over 70 companies made investment commitments of R364 billion in industries as diverse as advanced manufacturing, agro-processing, infrastructure, mining, services, tourism and hospitality.
In the first two years of the investment drive, a total of R664 billion in investment commitments has been raised, which is more than half of the five-year target of R1.2 trillion.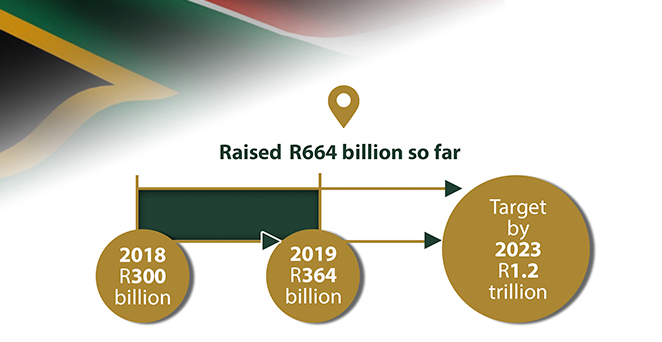 These investments are having a real impact. Already, projects with an investment value of R9 billion have been completed and 27 projects worth just over R250 billion are in implementation phase, with more coming on-stream this year.
One manufacturer showing confidence in SA and backing it up with investment and creating 1,500 jobs. I hope there are more | Toyota to build a new car in South Africa - but what is it? | IOL Motoring https://t.co/49CUY4AhnL

— Gillian Findlay (@gillian_findlay) February 4, 2020
Global food and beverage leader PepsiCo's R24 billion acquisition of Pioneer Foods represents a significant boost for local investment and job creation, as well as a major achievement for worker empowerment.
Employees in the company will be issued with R1.6 billion worth of shares in PepsiCo that will be used to acquire a 13% stake in Pioneer Foods within five years.
Under the terms of the deal, PepsiCo also made commitments to invest R6.5 billion in operations in South Africa and create 3,000 direct and indirect new jobs.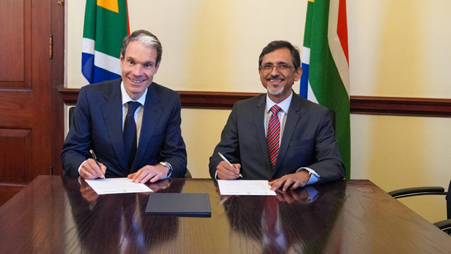 Image Credit: Department of Trade and Industry
Minister Ebrahim Patel and PepsiCo CEO for Africa, Middle East and South Asia, Eugene Willemsen, sign the agreement on its acquisition of Pioneer Foods.
Read more about this ground-breaking empowerment deal here.
Master plans
Important progress has been made in finalising and implementing master plans in vital parts of the economy.
These master plans bring government, labour and business together to develop practical measures to spur growth at sector level and each partner contributes to making it work.
Tshwane Automotive Hub
The first Tshwane Automotive Hub, which is part of the expansion of the OR Tambo Special Economic Zone (SEZ), has been launched. To be developed through a joint partnership between the Department of Trade and Industry, Gauteng Provincial Government and the City of Tshwane, the Hub will expand production and local manufacture of components, and has the potential to create more than 5,000 jobs once fully operational.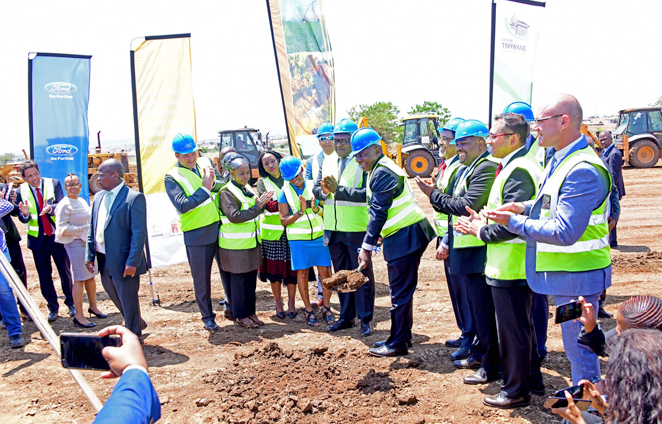 Image: GCIS
President Cyril Ramaphosa launches Tshwane Automotive Hub in Pretoria.
Clothing and Textiles Master Plan
The Clothing and Textiles Master Plan, which was signed last year, aims to create 121,000 new jobs in the clothing, textiles, footwear and leather industry over the decade.. qand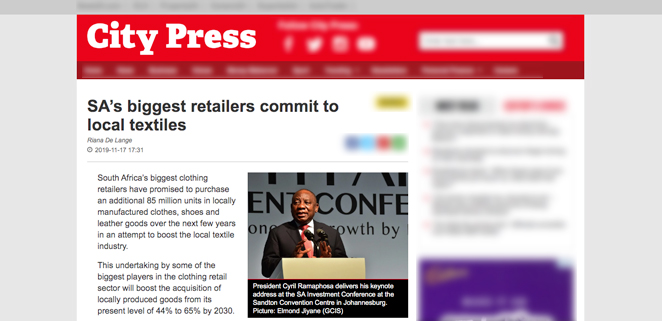 Image Credit: Elmond Jiyane (GCIS)
Click here to read the full story
Leading retailers, including Mr Price, Foschini, Pick n Pay, Woolworths and Edgars, have pledged to buy more locally made fashion products.
The plan involves commitments by retailers to buy goods locally, by manufacturers to invest and support transformation, and by labour to develop bargaining structures that promote agile manufacturing. 
Government has already begun to act decisively against illegal imports, seizing almost 400 containers with under-invoiced products in the last quarter of 2019.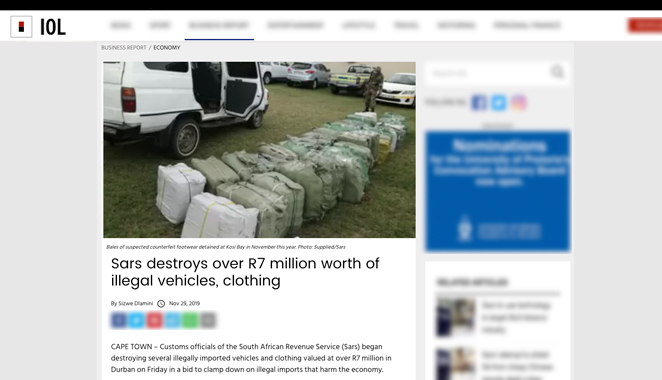 Image Credit: Supplied/Sars
Click here to read the full story
A high-level inter-governmental task team has been established to tackle illicit trade, with a focus on clothing, textiles, leather and footwear, scrap metals and gold.
Poultry Master Plan
A Poultry Master Plan has now been completed to support chicken farmers and processors, and save 54,000 jobs while creating new jobs..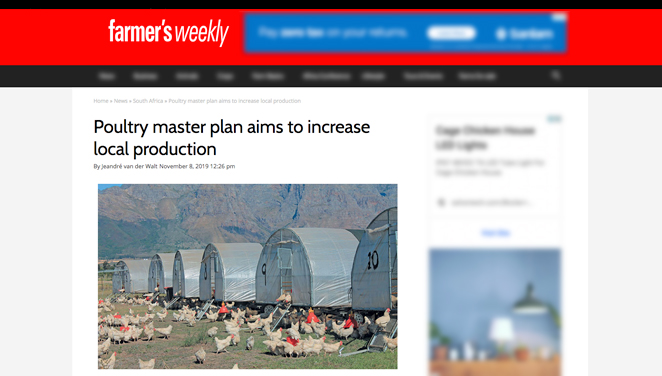 A new poultry import tariff adjustment will soon be set to support the local industry. 
Sugar and Steel Master Plans
Together with farmers and industrial users, a plan has been developed to save jobs in the sugar industry, and a Sugar Master Plan will soon be finalised.
A new Steel Master Plan will be finalised in the coming six months..