Entrepreneurship
We know that growth and job creation will in large measure be driven by private enterprise.
President Cyril Ramaphosa, SONA 2020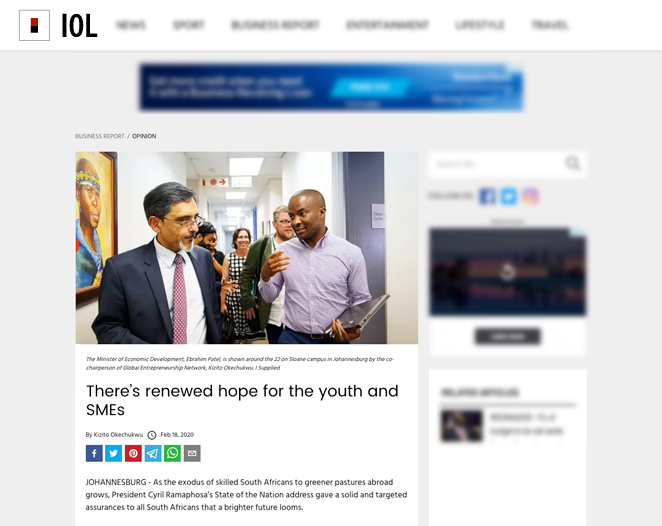 Image: GCIS
Click here to read the full story
President Cyril Ramaphosa's SONA address gave solid and targeted assurances to all South Africans that a brighter future looms for young entrepreneurs and SMMEs.
BizPortal
Through the new Bizportal platform, South Africans can now register a company in just one day, as well as register for UIF and SARS and even open a bank account. 
Data costs
Addressing the high costs of data is essential for improving the lives of South Africans, stimulating entrepreneurship and the digital economy, and driving inclusive growth.
Following recommendations by the Competition Commission for mobile operators to significantly reduce data prices, Vodacom has agreed to cut the costs of its product offerings by 34% from April 1. The settlement agreement with the Commission applies to monthly data bundles across the board. Similar agreements with other operators are expected in the coming weeks.
SMME funding
A total of R6.5 billion has been allocated in the latest Budget for small business incentives, of which R2.2 billion will be transferred to the Small Enterprise Development Agency (Seda).
In addition, R107 million has been allocated for the refurbishment of 27 industrial parks in townships and rural areas.
She Trades ZA
South African women entrepreneurs are set to benefit from a government platform that will assist in taking their ventures to global markets.
The SheTradesZA platform will help women-owned businesses to participate in global value chains and markets.
Women-empowerment
Over the next five years, the Industrial Development Corporation is targeting R10 billion of own and partner funding for women empowered businesses.
Procurement
The National Treasury has published the draft Public Procurement Bill for public comment. The draft bill forms part of our efforts to empower black and emerging businesses and advance radical economic transformation. 
To create a larger market for small businesses, we plan to designate 1,000 locally produced products that must be procured from SMMEs.