Energy Security
Through these immediate measures and the work underway to fundamentally restructure our electricity industry, we will achieve a secure supply of reliable, affordable and, ultimately, sustainable energy.
President Cyril Ramaphosa, SONA 2020
Reliable energy supply is critical for the growth of our economy and the livelihood of all South Africans. We are therefore prioritising key measures to restore Eskom's operational capabilities and to significantly increase generation capacity outside of the power utility.
Restoring Eskom
Eskom has started with the process of divisionalising its three operating activities – generation, transmission and distribution – each of which will have its own board and management structures.
We are also working to finalise the social compact on electricity. The social partners – trade unions, business, community and government – are committed to mobilising funding to address Eskom's financial crisis in a financially sustainable manner.
New generation capacity
We are implementing a number of measures to enable the development of additional grid capacity.
These include:
Bringing more renewable energy, natural gas, hydro power and battery storage into the energy mix through the Integrated Resource Plan 2019.
Procuring emergency power from projects that can deliver electricity into the grid within 3 to 12 months of approval.
Generating own-use power. The National Energy Regulator will continue to register small-scale distributed generation for own use of under 1 MW, for which no licence is required.
Enabling municipalities to procure their own power from independent power producers.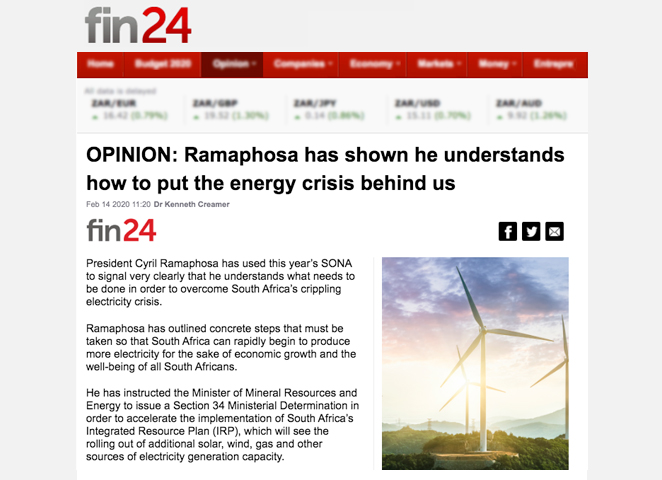 fin24
Click here to read the full story
President Cyril Ramaphosa has used this year's SONA to signal very clearly that he understands what needs to be done in order to overcome South Africa's crippling electricity crisis.