SONA 2018 Commitments and Achievements
We are committed to delivering on the promises made in the 2018 State of the Nation Address. There is still much work to be done, but we have made important progress. Last year, President Cyril Ramaphosa pledged to ensure that the poorest and most vulnerable South Africans can earn a living wage. On Day 320 post-SONA, we took a crucial step towards that goal.
On the 1st of May this year, we will introduce the first national minimum wage in South Africa. This historic achievement – a realisation of one of the demands of the Freedom Charter – is expected to increase the earnings of more than six million working South Africans and improve the living conditions of households across the country. The introduction of a national minimum wage was made possible by the determination of all social partners to reduce wage inequality while maintaining economic growth and employment creation.
Day 320
The National Minimum Wage takes effect, improving the wages of 6 million workers.
The National Minimum Wage, which came into effect at the start of this year, sets a historic precedent in the protection of low-earning workers and provides a platform for reducing inequality in society and decreasing huge disparities in income in the national labour market.
Under the new law, employers have to pay workers a minimum of R20 an hour – equivalent to R3 500 per month, depending on the number of hours worked.
Extensive international research on the impact of minimum wages is quite conclusive: minimum wages set at a reasonable level, and cautiously and carefully implemented … may well lead to a growth in employment. There is evidence of this around the world, including in developed countries such as the US and developing countries like Indonesia. SA has benefited from understanding how minimum wages have been implemented in a range of countries and from extensive research by the International Labour Organisation, the World Bank and the academic research community.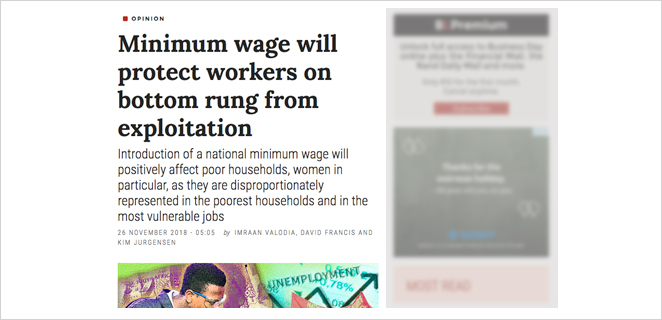 Business Live
November 23 2018 will be the historic day President Cyril Ramphosa signed into law a national minimum wage. (Illustration: Karen Moolman)
The national minimum wage represents a marked increase in income for more than six million workers – or 47 percent of South Africa's labour force – who earn less than R20 an hour.
PRESIDENT PROCLAIMS NATIONAL MINIMUM WAGE EFFECTIVE DATE

The national minimum wage represents a marked increase in income for more than 6 million workers – or 47% of South Africa's labour force – who at present earn less than R20 an hour.#NationalMinimumWage pic.twitter.com/7MWhtlNkZZ

— #GrowSouthAfrica (@MYANC) December 7, 2018