SONA 2018 Commitments and Achievements
We are committed to delivering on the promises made in the 2018 State of the Nation Address. There is still much work to be done, but we have made important progress. Last year, President Cyril Ramaphosa pledged to stabilise vital state institutions and reform our ailing state-owned enterprises. We have since taken crucial steps towards those goals.
"We will urgently attend to the leadership issues at the National Prosecuting Authority to ensure that this critical institution is stabilised and able to perform its mandate unhindered.

We will also take steps to stabilise and strengthen vital institutions like the South African Revenue Service.

We must understand that tax morality is dependent on an implicit contract between taxpayers and government that state spending provides value for money and is free from corruption."
Many of our state-owned enterprises are experiencing severe financial, operation and governance challenges, which has impacted on the performance of the economy and placed pressure on the fiscus.

We will intervene decisively to stabilise and revitalise state owned enterprises.
Day 292
Adv Shamila Batohi appointed as new National Director of Public Prosecutions.
Day 302
The Nugent Commission recommends far-reaching measures to restore effectiveness and credibility of SARS, including the appointment of a new SARS Commissioner.
During his state of the nation address last year, President Ramaphosa pledged that government would address the leadership crisis at the National Prosecuting Authority (NPA) to ensure the institution could go about its work without political interference.
The recent appointment of the new National Director of Public Prosecutions (NDPP), Shamila Batohi, the first woman to take up the post, has been widely welcomed.
The appointment of advocate Shamila Batohi as the new National Director for Public Prosecutions has been widely welcomed. https://t.co/QlwcXmnXYl

— Mail & Guardian (@mailandguardian) December 4, 2018
After pledging to stabilise and restore the South African Revenue Service (SARS), President Cyril Ramaphosa appointed a commission of inquiry in May of last year to look into tax administration and governance by the entity. Chaired by retired Justice Robert Nugent, the commission has since submitted its final recommendations for criminal prosecutions and far-reaching changes to restore SARS.
#NugentFinalReport President Cyril Ramaphosa has confirmed he has received the final report of the Nugent Commission of Inquiry into tax administration and governance at SARS and is currently applying his mind. BD

— EWN Reporter (@ewnreporter) December 14, 2018
The president has also taken decisive steps to address the challenges facing our state-owned enterprises, including Eskom, SAA and the SABC.
At the helm of Team SA, Ramaphosa told investors that the government had changed the boards and executive management in strategic state-owned entities and was working closely with the new leadership, particularly at Eskom, on the implementation of credible turnaround strategies.
President #Ramaphosa: Eskom's contribution to the health of our economy is too great for it to be allowed to fail. Is is too important and is too big to fail. And we will not allow it to fail. Restoring and securing energy security for the country is an absolute imperative.

— PresidencyZA (@PresidencyZA) February 5, 2019
In the coming days, we will be announcing a package of measures to stabilise and improve Eskom's financial, operational and structural position and to ensure security of energy supply for the country. Restoring energy security is an absolute imperative for the country.
– President Cyril Ramaphosa speaking at the Mining Indaba in Cape Town.
Restructuring and reviving ailing state-owned entities has been a major part of President Cyril Ramaphosa's mandate since last year. In 2019, there has been a flicker of hope for the troubled enterprises.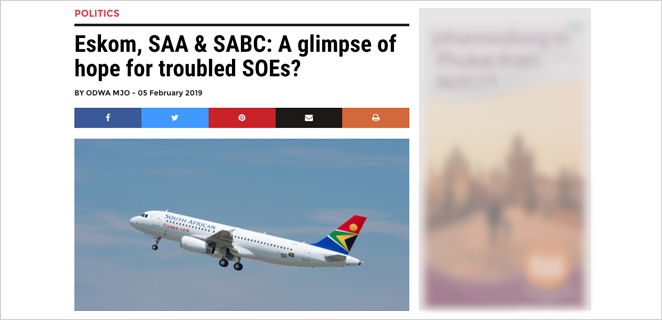 Herald Live
Banks have agreed in principle to provide SAA with R3.5bn in funding. (Image: SAA)