SONA 2018 Commitments and Achievements
We are committed to delivering on the promises made in the 2018 State of the Nation Address. There is still much work to be done, but we have made important progress. Last year, President Cyril Ramaphosa pledged to restore investor and business confidence, and bring in substantial new investment to grow our country's economy. On Day 284 post-SONA, we took a crucial step towards that goal.
We will make a major push this year to encourage significant new investment in our economy. To this end, we will organise an Investment Conference in the next three months, targeting both domestic and international investors, to market the compelling investment opportunities to be found in our country.
Day 284
Inaugural South Africa Investment Conference secures R290 billion in investment.
The South Africa Investment Conference, held in Sandton, Johannesburg in October of last year, was attended by more than 1,000 investors and marked the beginning of a new narrative on investment in South Africa.
Pledges were made by companies in mining, forestry, manufacturing, telecommunications, transport, energy, agro-processing, consumer goods, pharmaceuticals, infrastructure, financial services, energy, ICT and water. Pledge announcements included: Sappi (R7.7bn), Mondi SA (R8bn), Rain (R1bn), Mara (R1.5bn), mining company Vedanta (R21.4bn), Ivanplats (R4.5bn), AngloAmerican (R71.5bn), Bushveld Minerals (R2.5bn), Naspers (R6bn) and Mercedes Benz SA (R10bn), among others.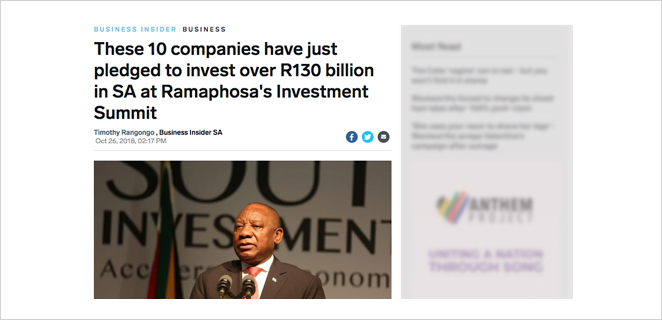 Business Insider
President Cyril Ramaphosa addressing the Investment Summit. (Image: Twitter) Read Full Article
President Cyril Ramaphosa's commitment to driving economic growth and investment has been broadly welcomed by economists and business.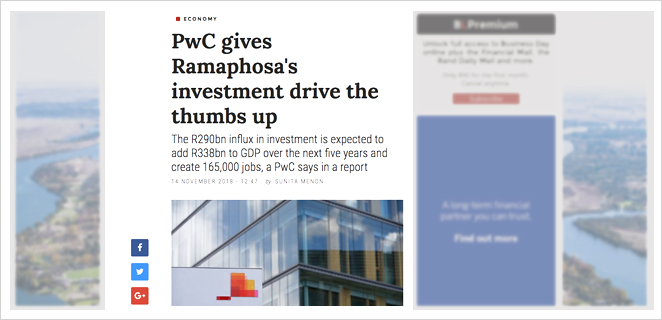 Business Live
President Cyril Ramaphosa's investment drive is expected to give GDP a meaningful boost and make a dent on the unemployment figures, PwC says. (Image: REUTERS)
The investment pledged is expected to support long-term economic benefits for SA, including stronger real GDP growth, the creation of jobs and generation of additional tax revenue. The continued investment in SA would assist in reducing unemployment, poverty and improve people's lives, which, in turn, would also support long-term economic growth. PwC South Africa