Just transition to a low-carbon economy
Energy security is the backbone of the economy, driving economic growth and transformation.
A national state of disaster has been declared to address the social and economic effects of the electricity crisis and to reduce the severity of load shedding. The national state of disaster will enable government to implement practical measures to support businesses in the food production, storage and retail supply chain, including for the rollout of generators, solar panels and uninterrupted power supply.
We have taken action to rapidly and substantially expand energy generation capacity in addition to what Eskom generates. One of the potent reforms we have embarked upon is to allow private developers to generate electricity. There are now more than 100 projects, which are expected to provide over 9 000 MW of new capacity over time. These energy reforms will reduce pressure on the national grid and lower the risk of power cuts.
As we take these actions to resolve the energy crisis, we are mindful of the risks that climate change poses to our society. We will continue our just transition to a low carbon economy at a pace our country can afford and in a manner that ensures energy security.
Properly managed, the energy transition will benefit all.
Renewable energy production will make electricity cheaper and more dependable, and will allow our industries to remain globally competitive.
Investments in electric vehicles and hydrogen will equip South Africa to meet the global clean energy future.
We will be able to expand our mining industry in strategic minerals that are crucial for clean energy, like platinum, vanadium, cobalt, copper, manganese and lithium.
We also have a unique opportunity in green hydrogen, given our world-class solar and wind resources and local technology and expertise.
Above all, our just transition will prioritise workers and communities in vulnerable industries to ensure that no one is left behind.
Climate change and the Just Transition
A just transition to a low-carbon economy will benefit all South Africans by driving economic growth, creating jobs and increasing our energy security, while addressing the serious threat of climate change.
Our goals:
Boosting economic growth through more than R1 trillion of new investment in the South African economy
Creating quality jobs in new sectors like electric vehicles, green hydrogen, renewable energy and manufacturing
Increasing our energy security and ending load shedding through a massive rollout of new, sustainable energy sources
Addressing the risks of climate change and positioning South Africa to be an important global player in the green economy of the future
Climate change is an existential challenge that confronts us all, and South Africa is committed to playing its part in reducing global emissions.
President Cyril Ramaphosa, SONA 2022
Just Energy Transition Investment Plan (JET IP)
Our Just Energy Transition Investment Plan (JET IP) for the five-year period 2023-2027 sets out the scale of need and the investments required to achieve the decarbonisation commitments in our Nationally Determined Contribution (NDC), which outlines the rate at which South Africa plans to reduce greenhouse gas emissions and represents South Africa's fair contribution to the goals of the Paris Agreement.
The Investment Plan supports South Africa's goal of achieving a low-carbon economy and a climate-resilient society. It is about addressing the global risks of climate change, while creating jobs and driving more rapid and inclusive economic growth. It is about translating commitments into reality, enabling stronger and deeper collaboration, and facing up to the greatest challenge of our times.
Just Energy Transition Partnership
The JET IP gives effect to the historic Just Energy Transition Partnership (JETP), which was forged at the COP26 Climate Summit in 2021 between South Africa and France, Germany, United Kingdom, United States and the European Union. The JETP followed engagements between the parties on the unique economic and social challenges of transitioning South Africa's fossil fuel-dependent economy in a just manner.
The JETP Political Declaration says the governments aim to "establish an ambitious long-term partnership to support South Africa's pathway to low emissions and climate resilient development, to accelerate the just transition and the decarbonisation of the electricity system, and to develop new economic opportunities such as green hydrogen and electric vehicles amongst other interventions to support South Africa's shift towards a low carbon future."
The Political Declaration provides that the international partners will mobilise an initial US$8.5 billion between 2023 and 2027, subject to agreement on an investment framework. This catalytic financing is intended to leverage a much greater level of resources from both private and public sources.
The JETP shows the commitment of the partners to enable a just transition in South Africa that recognises the direct and indirect impact that the energy transition has on livelihoods, workers and communities.
The JETP identifies three priority areas to support the economy of the future: the electricity sector, new energy vehicles (NEV) and green hydrogen. In addition to investing in these areas, the Investment Plan provides for support to workers and communities affected by the transition, making sure that no one is left behind.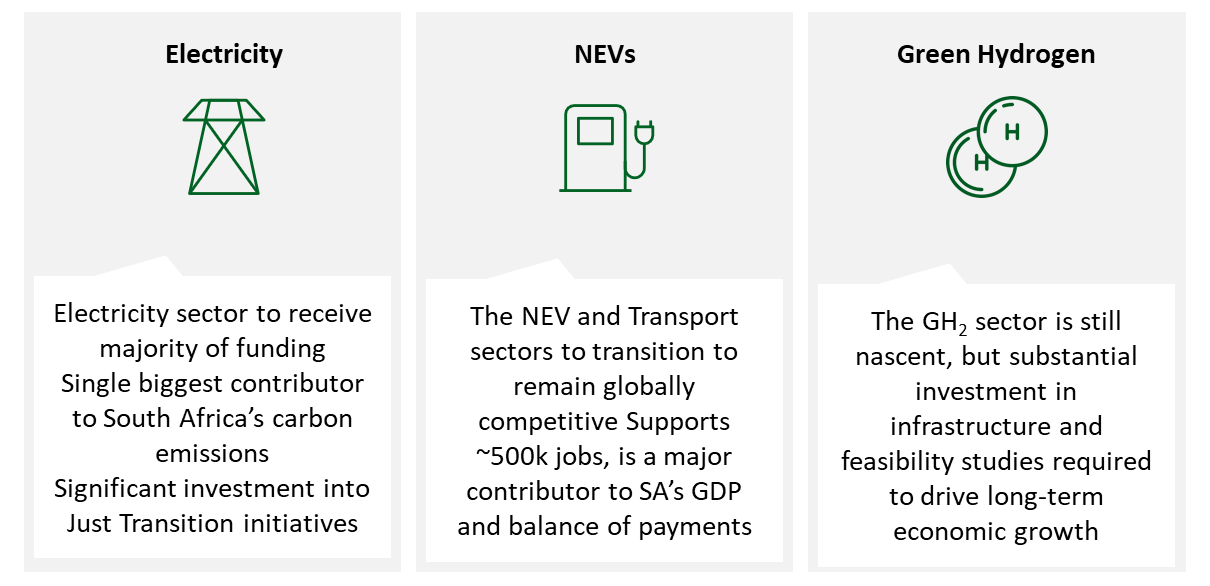 The required portfolio of investment is designed to contribute to long-term exonomic, social and environmental outcomes through an intersectoral and people-focussed approach.
The Energy Action Plan is South Africa's plan to end load shedding and achieve energy security. Announced by President Cyril Ramaphosa in July 2022, it outlines a bold set of actions aimed at fixing Eskom and adding as much new generation capacity as possible, as quickly as possible, to close the gap in electricity supply.
The plan includes five key pillars:
Fix Eskom and improve the availability of existing supply
Enable and accelerate private investment in generation capacity
Fast-track the procurement of new generation capacity from renewables, gas and battery storage
Unleash businesses and households to invest in rooftop solar
Fundamentally transform the electricity sector to achieve long-term energy security
The National Energy Crisis Committee (NECOM) was established to ensure that the Energy Action Plan is fully implemented to achieve these objectives. NECOM is led by the Minister in the Presidency responsible for Electricity, Minister Kgosientsho Ramokgopa. The committee comprises top-level officials from across government and Eskom, who are working with business and other social partners to ensure energy security for South Africa. Read more about NECOM's progress on implementing the five key priorities of Energy Action Plan along with ways you can help reduce load shedding.
Immediate measures to fix eskom
Improve the performance of Eskom's existing power stations.
We have taken steps to improve the performance of Eskom's existing power stations so that the coal-fired power stations that provide 80% of our electricity produce the amount of electricity for which they were designed. Government will support Eskom to secure additional funding to purchase diesel for the rest of the financial year. This should reduce the severity of load shedding as Eskom will be able to use its diesel-run plants when the system is under strain.
Add as much new generation capacity to the grid as possible, as quickly as possible.
Under its new board, Eskom is deploying people and resources to improve the reliability of the six power stations that have contributed the most to load shedding. It is urgently fast-tracking construction of a temporary solution to bring back three units at Kusile power station following the collapse of a chimney stack last year, whilst simultaneously repairing the permanent structure. Eskom's new programme to buy excess power has already secured 400 MW from our neighbouring countries.
Eskom's restructuring has laid the foundations for an efficient, modern and competitive energy system. The power utility has been restructured into three separate entities for generation, transmission and distribution, each with its own boards and managing directors. We are working closely with Eskom to improve its financial position, manage its debt, reduce its dependence on the fiscus and ensure its financial sustainability.
Eskom is:
Executing its Generation Recovery Plan to increase plant performance and reduce unplanned plant breakdowns
Making substantial progress with its intensive maintenance and operational excellence programmes to improve the reliability of its coal fleet
Working to fast-track its commercial and technical processes to allow additional capacity onto the grid without undue delay
The National Transmission Company will be soon operational with an independent board. The separation of the generation and distribution businesses are on track. This will radically transform the structure of the electricity sector for future generations.
Repurposing Eskom's power plants
Eskom is looking at repurposing its old coal-fired power plants into renewable energy plants. The Komati power station in Mpumalanga has been earmarked for repurposing. This will be the pilot project for the conversion of a number of other facilities. Once repurposed, Eskom will test the plant's grid performance as well as review opportunities for the Komati community who will be affected by the switch from coal to renewables.
We have made land available next to Eskom power stations in Mpumalanga for renewable energy projects, which will unlock 1 800 MW of new capacity.
Eskom will also partner with investors to repurpose and repower part of its coal fleet. This will be done in a way that stimulates investment, local economic activity and local manufacturing as part of a just transition.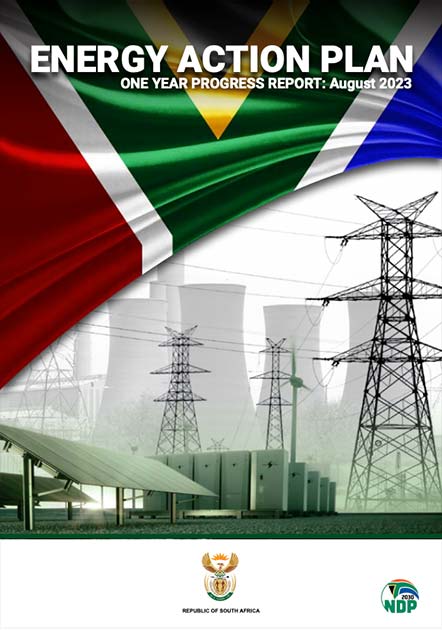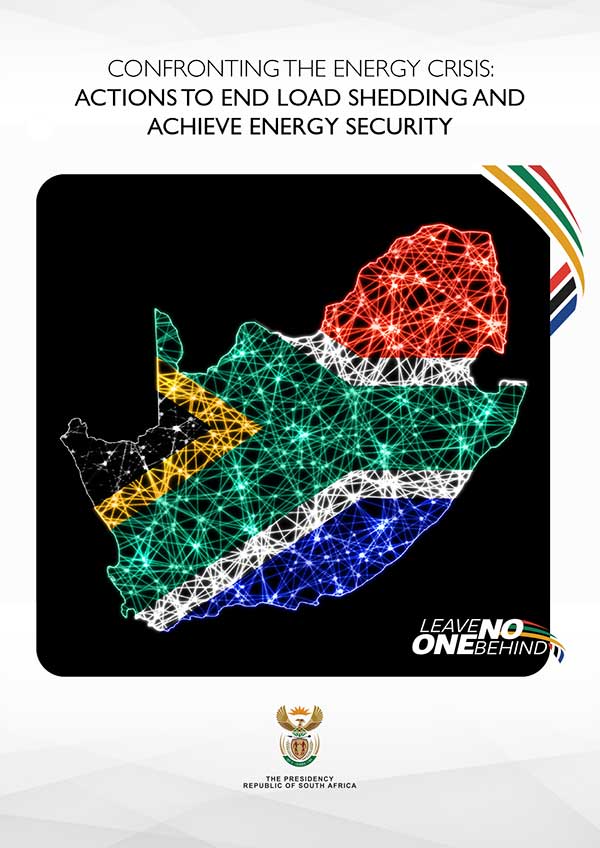 Find out more about what government is doing to fix Eskom and transform the electricity sector to achieve long-term energy security.
CLICK HERE TO DOWNLOAD
Ensuring ESKOM's Just transition
Eskom's green energy transition plan is a first step to decarbonise the energy sector. This involves shifting from generating electricity through fossil fuels to clean energy from renewables. The strategy will also accelerate the repurposing and repowering of power stations to grow renewable energy.
Eskom is planning to develop 8 017 MW of renewable energy projects, ranging from wind power to solar, hydropower and gas. This transition to green energy will cost about R146 billion.
Proposed projects for the Green Energy Transition plan
Independent power producers
The Independent Power Producer (IPP) Procurement Programme is contributing to energy security through the procurement of significant renewable energy and non-renewable generation capacity from the private sector. The programme has also been structured to contribute to the broader national development objectives of job creation, social upliftment and broadening of economic ownership. The programme is already delivering a secure energy supply from a diverse range of energy sources.
The licensing threshold for new embedded generation projects was increased from 1 MW to 100 MW in 2021 and removed completely in 2022. This enables private generators to produce and sell electricity to one or more customers, such as factories, mines or data centres. To date, this has unlocked a pipeline of more than 80 confirmed private sector projects with a combined capacity of over 6 000 MW.
We have changed regulations to enable municipalities in good financial standing to build their own electricity or procure their own power from IPPs.
Independent Power Producer projects
6 304 MW
91 IPPs contracted to deliver
5 823 MW
87 IPPs already delivering
546 MW
From four projects expected to connect in early 2022
Renewable Energy Independent Power Producer Procurement Programme (REIPPPP)
The REIPPPP is aimed at increasing energy generation and supply through private sector investment in wind, biomass and small hydro, among others. The renewables programme has resulted in over 6 000 MW of generation capacity being allocated to bidders across a variety of technologies, principally in wind and solar.
Progress on procurement
1 600 MW already connected to the grid

2 583 MW of new generation capacity in wind and solar by 2024
Additional electricity generation capacity through the fifth, sixth and seventh bid windows is expected to add 6 800 MW of renewable energy to the grid over the medium term – enough to power over 4 million homes.
Government has also embarked on a Gas IPP Programme that will procure up to 3 000 MW of gas with the objective of ensuring grid connection by 2026/27.
Risk Mitigation Independent Power Producer Procurement Programme (RMIPPPP)
The RMIPPPP was introduced to meet the immediate electricity supply gap through procurement from a range of source technologies rather than a specific type. Its second objective is to reduce the extensive use of diesel-based peaking electrical generators in the medium- to long-term. The programme has very tight deadlines to reach commercial operation as soon as possible.
Progress on procurement
Over 1 900 MW procured from IPPs

Will inject private sector investment of R45 billion into the local economy

Expected to produce first power within 18 months of approval
Introducing renewable energy into the power mix
The Redstone Concentrated Solar Power plant is the largest renewable energy project in South Africa.
R11.6 billion investment
Will contribute 100 MW of power to the grid
Will permanently supply 200 000 households with electricity
Will create 2 000 construction jobs
Source 44% of its procurement needs from local producers
In addition, the project has committed R1 billion to social-economic and enterprise development.
South Africa has plans to link its massive platinum reserves to the green hydrogen market, which could be worth $2.5 trillion by 2050.
Over the past year, government has built on its successful Hydrogen SA strategy to make major strides in positioning South Africa as a global leader in this new market. We have developed a Hydrogen Society Roadmap for the next ten years, supporting the development of a green hydrogen pipeline worth around R270 billion.
The project could potentially produce at least 400 kt of hydrogen every year. It also has the potential to create up to 6 000 direct jobs, generating much-needed socioeconomic benefits, including creating further indirect jobs across the ecosystem.
The Platinum Valley Initiative
The Department of Science and Innovation (DSI) has approved a budget of R29.9 million for the Platinum Valley Project. Platinum is a key input in hydrogen fuel cell technology, able to withstand higher temperatures than other metals and a catalyst for generating an electrical current. South Africa has more than 75% of the global reserves of platinum group metals, which places the country in an excellent position.
The project will pull South Africa's hydrogen initiatives into one integrated hydrogen ecosystem, with the aim of boosting economic growth and job creation, driving the development of new industries and reducing the country's carbon footprint. It will also contribute to energy security in the automotive, materials handling, mining and electrification industries.
The Hydrogen Valley is one of the first projects that will be implemented in partnership with the private sector to support the Platinum Valley initiative. It will be used to establish, accelerate and embed niche innovations through upscaling and replication.