Fighting crime and corruption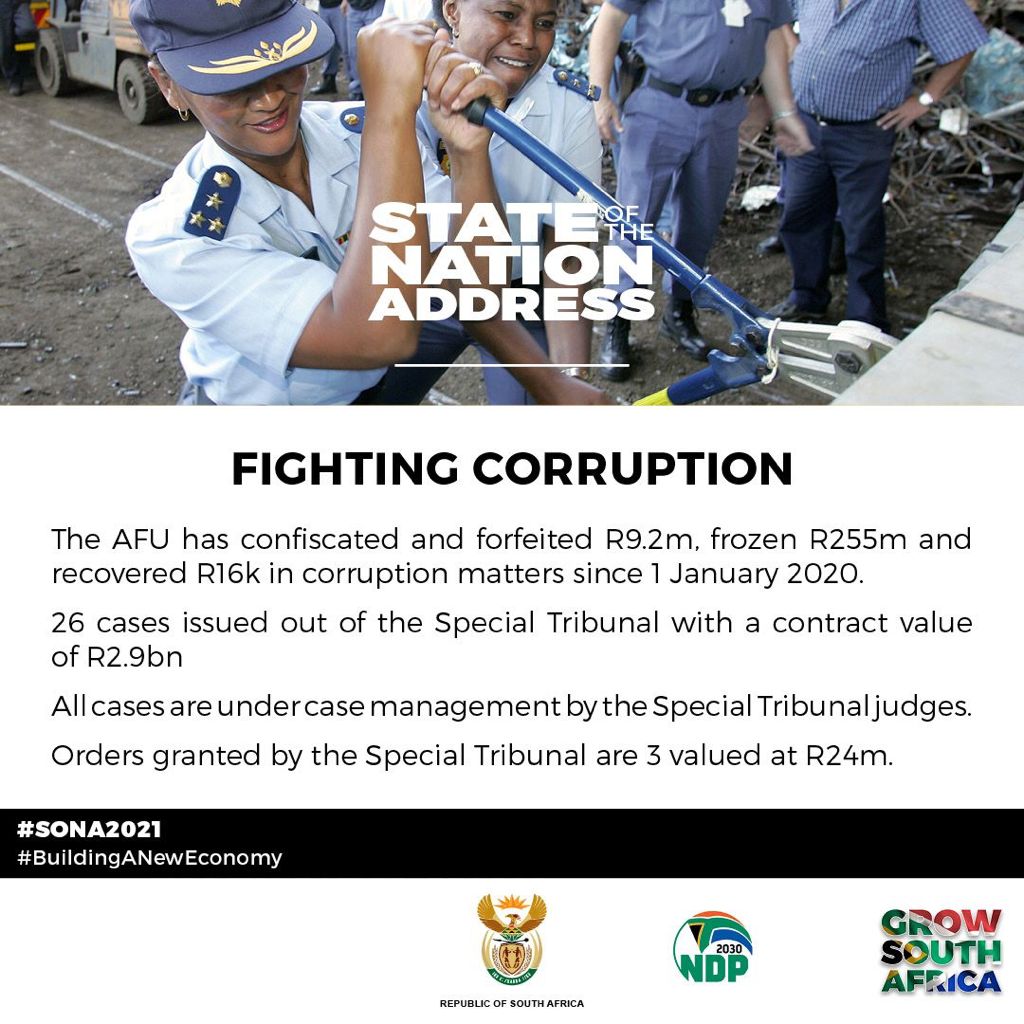 Corruption is one of the greatest impediments to the country's growth and development, and the rebuilding effort begun three years ago must be maintained.
There has been great progress in turning around law enforcement bodies, with critical leadership positions filled, improved cooperation and sharing of resources by law enforcement agencies, and implementation of the National Anti-Corruption Strategy. National Anti-Corruption Advisory Council members will be appointed shortly.
Gender-based violence
Three key pieces of legislation were introduced in Parliament in 2020 to make the criminal justice system more effective in combating gender-based violence.
Progress is being made in reducing the backlog of gender-based violence cases. Also, care and support for the survivors of gender-based violence will continue.
The ground-breaking, private sector-led Gender-based Violence and Femicide Response Fund was launched in February 2021, with several South African companies and global philanthropies pledging a total of R128-million. Over the next three years, the government will allocate approximately R12-billion to implement the various components of the National Strategic Plan.
Also in 2020, Cabinet approved a policy that 40% of public procurement should go to women-owned businesses. Several departments have begun implementing this policy.
Furthermore, attention must be given to issues affecting children, including improving school readiness, Early Childhood Development planning and funding, protection against preventable diseases, policy reform around child welfare and reducing violence against children.
Moreover, the government will in the next year forge ahead with providing greater opportunities for persons with disabilities to participate in the economy and in society in general.
COVID corruption
The Fusion Centre, which brings together key law enforcement agencies to share information and resources, was established last year to act on fraud and corruption in the procurement of COVID-related goods and services. Millions of rands in public funds have been preserved or recovered.
The Special Investigating Unit (SIU) was authorised to investigate allegations of unlawful conduct with respect to COVID procurement by all state bodies during the National State of Disaster. The SIU has finalised investigations into 164 contracts with a total value of R3.5-billion.
Political party funding
The Political Party Funding Act will come into operation on 1 April this year. This will regulate public and private funding of political parties.
Extortion in construction sector
Task teams have been set up in a number of provinces to deal with extortion and violence on sites of economic activity.
Border management
The implementation and capacitation of the Border Management Agency, to curb illegal immigration and cross-border crime, is being fast-tracked.
News archive