Investment Conference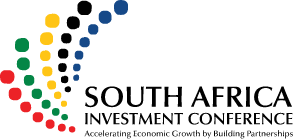 The 4th South Africa Investment Conference (SAIC) brings together investors from across the country and around the world to promote South Africa as an attractive investment destination and trade partner.
The SAIC forms a crucial part of President Cyril Ramaphosa's investment drive to attract R1.2 trillion over a period of five years. Since the first conference in 2018, South Africa has attracted R774 billion worth of investment commitments across a broad range of economic sectors, including, mining, manufacturing, agriculture and the digital economy.

Investment stimulates and supports the growth of local economies, with direct material benefits for our people. It creates work opportunities and full-time jobs, providing people with an income to feed their families and pay for basic amenities.
President Cyril Ramaphosa

Why does investment matter?
Attracting local and foreign investment is vital to ensuring that no one is left behind as we work towards economic recovery in the wake of the Covid-19 pandemic.
Without investment, the South African economy will not be able reach its full potential. When investment flows into our towns and communities, it helps our industries to thrive, boosts infrastructure development and increases productivity – while creating much-needed jobs.
This growth and development is crucial to our progress in reducing poverty and inequality. It also increases the funds available to government to spend on vital services as hospitals, schools and roads.
This is why government is determined to ensure that the country is not left behind as an investment destination – and that the benefits of investment reach all South Africans.